In today's blog, we will be focusing on Sitler's LED high bay products and options, of which there are a lot! Sitler's works with Giese Lighting Company to provide our clients with great LED high bay lighting products.
Manufacturer: Giese Lighting Company
Giese is able to provide Sitler's with high quality LED high bays due to their in-house abilities, such as sheet metal fabrication, fixture design and manufacturing. This helps keep costs low and quality high for Sitler's and you, our customers.
You may be asking yourself where you might use LED high bays. You often encounter high bay lighting in larger storefronts and buildings, such as warehouses, manufacturers, gymnasiums, factories and more. You might even be able to hear them before you see them! A common trait of traditional high bay lighting is the humming noise they emit. They are also known to warm up and turn on very slowly.
With Giese LED high bay lighting from Sitler's, the humming and slow burning bulbs are thigns of the past! Giese offers LED high bay replacements for your traditional high bay lighting. You can view their entire product line in our catalog here.
While Giese Lighting Company high bays run the gamete, you'll be guaranteed a number of things with all of their products. You can find those benefits listed below.
Great for gym renovations and projects
Guaranteed 10 year warranty
0-10v dimmable
Rated to last 100,000 hours
All lights offered in 1'x4', 2'x2' and 1'x8' sizes
Range in lumens from 12,000 to 41,000
Eligible for rebates in most areas
Installing LED high bay lights in your workshop, warehouse or gym means brighter, better light from the get-go, plus less maintenance costs down the road! Your lights will last over 20 years without needing to be replaced.
Find LED High Bays with Sitler's
Find high quality LED high bays at competitive prices with Sitler's. When you purchase LED lights from Sitler's, we take care of all the rebate paperwork for you, as well as set you up with a team of experienced and licensed electricians to complete your installation fast and efficiently. Give us a call today at (319)-519-0039 or send us an email to get started!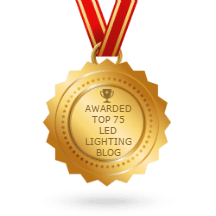 Sitler's was named one of 2017's top 75 LED blogs by Feedspot.com 
Posted in LED Products and Innovations