Sitler's LED Supplies is dedicated to creating the best working relationship with clients possible. Not only do we pride ourselves on our in-person customer service, but also our online presence. Sitler's works hard to make buying and installing LEDs easy, whether it's in person, over the phone or online! We continue to do this by guiding our business according to our values and promises.
Sitler's Promises…
1. Experience
Sitler's has been in the lighting industry for over 40 years, and hires trained lighting consultants to get the job done right the first time. We also partner with experienced Electrical Contractors for quick and easy installations.
2. Efficiency
Before lights are even installed, Sitler's will send out a lighting consultant to walk through your property to get a light count and present a single page proposal. Once the proposal is ready to be filled, our warehouses are stocked full with all of our LED products, which makes filling orders quick and efficient.
3. Ease
Sitler's works hard to make the LED process easy for you, the client. You are able to find Sitler's website easily online, whether you are searching on your phone, tablet, laptop or desktop computer. All of Sitler's products are backed with warranties, which makes any replacements needed an easy fix. Lastly, we handle all of the rebate paperwork and processing for you. All you have to do is wait for the check to show up in your mailbox! It doesn't get much easier than that.
Sitler's Values…
1. Green Energy
Sitler's values green energy. LED lighting is not only great for your utility bill, but the world in general. With LEDs, you use less energy and therefore less energy is generated. Plus, we also take care of recycling any old fluorescent bulbs that can be hazardous to the environment if not discarded properly.
2. Giving Back
Sitler's makes an effort to give back to the community, donating lights, labor and money to local causes such as Camp Courageous, local fairgrounds, Children's Hospital, ABC of Iowa, G.I.V.E., Jimmy V. Foundation, WCDC Inc., Iowa Donor Network and more.
3. Community
Lastly, Sitler's started as a small local business in Washington, Iowa over 40 years ago and our roots remain. While we have branched off into three locations across the state, Sitler's remains invested in working with local businesses and electricians to bring the best quality customer service to our clients.
Begin Your LED Journey with Sitler's Today!
Find the best LED products and customer service with Sitler's LED Supplies. Contact us today via phone at (319)-519-0039 or email to set up a free walkthrough and evaluation, or stop into any of our three locations!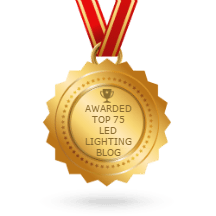 Sitler's LED Supplies was named one of 2017's Top 75 LED Blogs by Feedspot.com
Posted in Sitler's News and Updates
Tagged Customer Service, LED products, Promises, Sitler's LED Supplies, Support, Values