Sitler's Electrician Spotlight: Stickfort Electric Company
Added by Marissa. Posted on January 15, 2019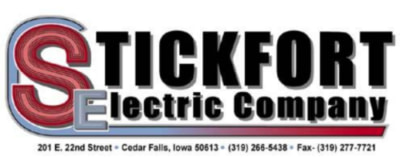 Stickfort Electric was founded in 1957 and is located in Cedar Falls, IA. Their primary service area is Waterloo, Cedar Falls, and surrounding communities. They currently employ a staff of 11 people, 7 of which are licensed electricians.
Stickfort is a Residential, Commercial/Industrial electrical contractor. In addition, they install Building Management Systems that integrate control of lighting, HVAC, and other building systems to optimize a building's energy efficiency.
STICKFORT AND SITLER'S BUSINESS RELATIONSHIP
"Sitler's LED Supplies has an impressive variety of products and manufacturers that provide access to any type of product or solution. In addition, Sitler's knowledge and experience in LED lighting helps match the right products to the project to complete it efficiently and within the customer's budget. Sitler's will stand behind their product and go the extra mile."
IMPACT OF LED LIGHTING ON BOTTOM LINE
Stickfort Electric has noticed LED lighting projects help maintain project and workload consistency throughout the course of the year by supplementing other traditional electrical services. They have found that LED lighting projects also tend to grow in scope as the installations speak for themselves. Truly, seeing is believing when it comes to LEDs!
STICKFORT'S CUSTOMER FEEDBACK
Maintenance personnel appreciates the huge reduction of maintenance which allows them to focus on more pressing issues. Accountants notice the energy savings and reduced maintenance costs in their financial reporting.

Employees love the improved light levels that allow them to optimize their work environment in the office, shop, and sales/product floor areas. Dim LED lighting options effectively address multiple or changing needs to maintain optimum performance and satisfaction.
STICKFORT'S CUSTOMER FEEDBACK
201 E 22nd St, Cedar Falls, IA 50613
(319) 266-5438
Posted in Sitler's Spotlights