If you love the look of bright, LED lights, but aren't a fan of the look of LED linear lamps, Sitler's LED panels are the perfect solution for you! Sitler's carries LED panels from two manufacturers, offering our clients the efficiency of LED lighting in a streamlined and modern design. To learn more about Sitler's LED panels, keep reading!
Sitler's LED Panels: Manufacturer's and Product Specs
LED panels from Sitler's are designed to replace 2' x 2' and 2' x 4' fluorescent fixtures. They offer edge lit lighting with zero shadows. The overarching benefits of installing LED panels include:
0-10v dimming
Simply installation
Option of surface mount
Up to 60 percent energy savings
Rebate eligible
MCLED LED Panels
The first manufacturer Sitler's works with to provide LED panels is MCLED Lighting. MCLED provides two LED panel options, 2' x 2' and 2' x 4'. Both LED products are rated at 50,000 hours, come with a 5-year warranty, and come in 4,000k and 5,000k color temperatures.
MCLED's 2' x 2' LED panels are 36 Watts and produce 3,600 lumens. Their 2' x 4' LED panels are 50 Watts and produce 6,250 lumens.
GLO LED Panels
The second manufacturer Sitler's partners with to bring you LED panels is GLO, or Global Lighting Organization. GLO's edge lit LED panels all rated at 50,000 hours, come in both 4,000k and 5,000k color temperature and come with a whooping 10-year warranty!
GLO's 2' x 2' LED panels are 40 watts and produce 4,400 lumens. Their 2' x 4' LED panels are 50 watts and produce 6,500 lumens.
Where to Place LED Panels
Edge lit LED panels are a great option for replacing any old fluorescent fixtures. Due to their modern design and look, they are great for modern office spaces, hospitals, shops and restaurants. Anywhere you see yellow, flickering T8 fluorescent bulbs you can install LED panels!
Find LED Panel's at Sitler's!
Find the best LED panels for your business with Sitler's LED Supplies. When you work with us, your installation will be done quickly and efficiently, plus we take care of all of the rebate paperwork! Give us a call at (319)-519-0039 or send us an email to get started.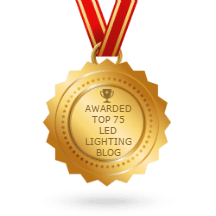 Sitler's LED Supplies has been named one of 2017's Top 75 LED Blogs by Feedspot.com
Posted in LED Products and Innovations
Tagged LED lighting, LED lighting products, LED panel, LED panel lighting, Sitler's blog